eBay Powerbook
NOTE that this page is not updated with current information. Shehryar Qamar has admitted to many other scams and the process is still ongoing, I am leaving this page as historical record. For the full story on what has happened since you can view my weblog.
On Tuesday, May 18, 2004, I used the "Buy it Now" link to purchase a Powerbook G4 via eBay. I received the below item on Monday, May 24, 2004. Unfortunately, this item is defnitely *not* what was listed in the original eBay posting. I will continue to update this page as more information is available. Update 6 (6/03/04) is now online. I've also posted my filing with the IFCC in pdf format (6/14/04).
On Tuesday, May 18, 2004, I won an eBay auction for the following item (as described in the auction):
---
Brand New Highest Generation Apple G4 15.2" Powerbook. Got this as a wedding present, but the Mrs. and I need to pay off bills first!!! This is brand new and sealed in the box! Maybe one day the Mrs and I can buy this for our little bundle of joy on the way :)
Noteable Specs:
1.5 Ghz
128 MB Video Ram
5400 RPM 80 Gig Hard Drive
4x DVD Superdrive
FREE SHIPPING ANYWHERE IN THE WORLD IF BUY IT NOW IS USED.
---
After some email tag following my original payment, a Powerbook was delivered to me on Monday, May 24, 2004. Unfortunately, this was not the listed item - instead it is the high end version of the previous iteration, and showed clear signs of use and some visible damage. The actual unit is, as is listed on the box I received, a 1.25 GHz, 64 MB VRAM, 4800 RPM drive, 2x Superdrive system. It arrived in 3 boxes - an outer shipping box filled with styrofoam peanuts, within which was a plain brown box with a different shipping address printed on it, within which was the original Apple box, within which was the unit. All three boxes are visible in the following image: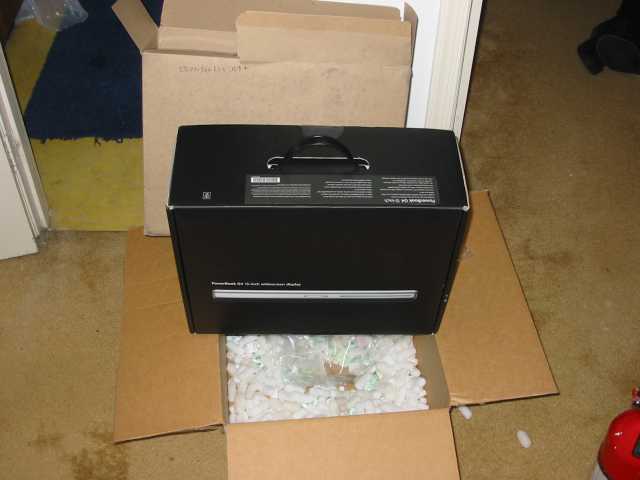 A close look at the label quickly reveals that the unit is not as was indicated in the auction: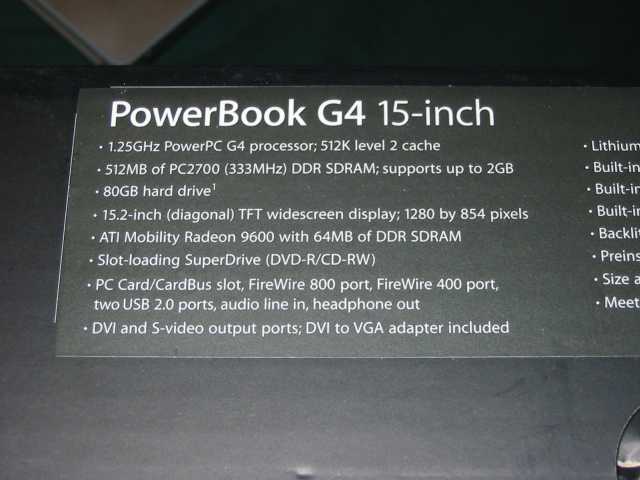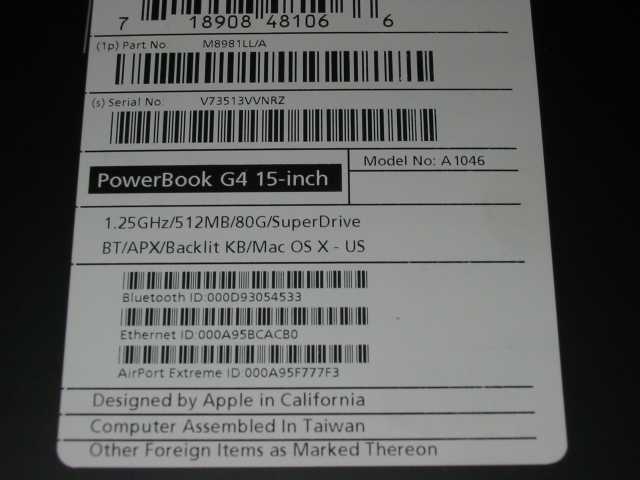 Here you can see some of the physical damage to the unit (those are scratches in the upper right of the picture, the camera did not capture them as well as I might have hoped). More importantly, the unit also has damage to the screen, with some areas of white "smudge" (this is unfortunately very difficult to capture on film).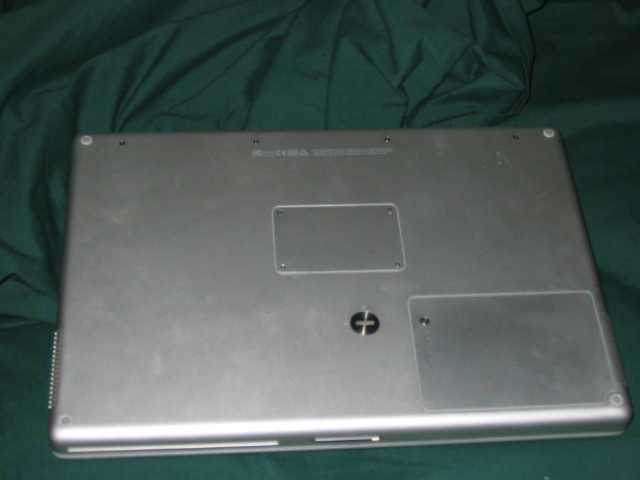 You can see screenshots of the Apple system profiler utility here, which reveal the actual specs of the unit. Note that the hard drive is named "Antonella," which is the name of the person who sold me the item (not what you'd expect from a sealed, brand new system, is it?). If you look *just* right, you can barely make out the white "smudges" towards the right-center of the window in the first image (they are much more visible in person).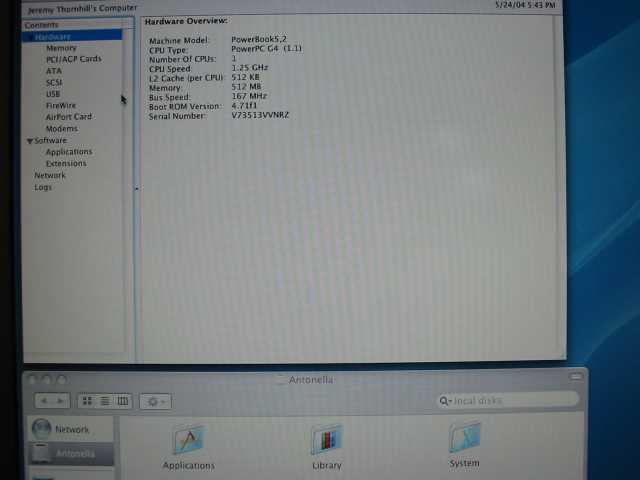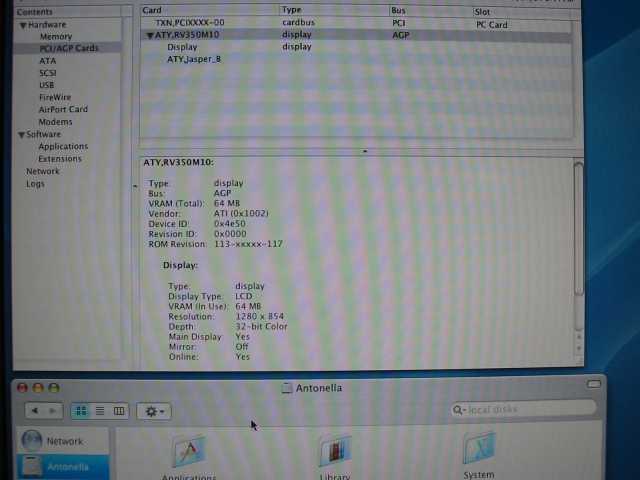 Checking the system logs, the unit was booted once before (on May 2, 2004). Presumably the operating system was reloaded then and the seller booted the machine to verify functionality.
I must admit that the whole thing has me at something of a loss. Why would a reputable eBay seller intentionally misrepresent a product? The unit could be sold legitimately for around $1500, and I purchased it for $2300 - is $800 motivation enough to ruin your eBay karma at a minimum and possibly incur the wrath of law enforcement at worst? Could it be an honest mistake? I can't imagine how something like that could possibly happen. Had the seller planned on selling this unit as well as the new unit, and accidentally shipped me the wrong one?
Incidentally, my roomate was witness to all of this, and I took photographs immediately after the item was received. I have emailed the seller and am awaiting further information before I contact the authorities (I don't even know where to begin...)
---
UPDATE 5/24/04 20:10:

It turns out that the seller has listed the same item again on eBay. Still not sure what to think of all this.

UPDATE 5/24/04 21:50:

In light of the relisting, I have sent another, less friendly email to the seller. I'm debating whether or not to le ave a strong negative feedback now, before somebody else might fall victim to a scam, or if I should leave more time for a reply.

UPDATE 5/25/04 00:22:

I noticed that the seller has left me positive feedback on eBay already, which seems like it would be odd coming from a scammer. I have this nagging suspicion that this is all a legitimate mixup, so I sent a slightly less antagonistic email on the o utside chances that everything could still work out.

UPDATE 5/25/04 00:40:

I just received this email from the seller. It looks like this could have been a legitimate listing error(um, how?), but it also looks like a refund is the best I'll get out of it all. Note to self - DON'T BUY HIGH DOLLAR SHIT ON EBAY!

UPDATE 5/26/04 11:40:

The seller has now told me that they likely cannot provide the proper item and have instead sent a personal check for my full paid amount, plus the cost of return shipping of the incorrect unit, to me via mail. They did this without even asking me if it was a good solution (It's not - a personal check? I *have* a paypal account, if I wanted a refund that's where I would want it). Needless to say I'm not shipping the unit I do have until I get a full refund in the damn bank. Seller still refuses to discuss this via phone for some reason. I've contacted eBay's fraud department about the situation (due to the fact that they still have the duplicate auction running). I'm reluctant to leave feedback yet as I have no idea how this will all play out in the end.

UPDATE 5/27/04 01:10

I've been communicating with a person who also used a "Buy it Now" link for a Powerbook from this seller. I'm just realizing the depth of the scam, and have now completely discounted the possibility of any legitimate error. There have been at least 3 auction wins for an identical item, and one auction outstanding on eBay (that would mean the seller would have to have 4 items, not the 2 that were claimed). The lingering question is why, why not just list the actual item? Why scam for only a couple of hundred bucks when you can legit walk away with a good chunk of change? My current theory is that the 'books are stolen, but that doesn't really explain everything and the knowledge doesn't help me out at all.

UPDATE 6/03/04 11:00

Towards the end of last week, I left negative feedback for the auction. The seller then responded on the feedback forum - with a lie, claming that they had sent me a replacement unit. I guess at that point the scammer decided to stop trying to string me along, and I've received no response from the seller in over a week despite constant requests on my part. I suppose it's safe to conclude that there never will be. I sent a final notice to the seller, threatening legal action, in which I also offered to withdraw my negative feedback and simply walk away should he provide me a full refund - I'm not holding my breath. I tried calling the seller's phone number a couple more times, one time I was immediately hung up on, the other time he just let the phone ring. The seller now has more Macintosh systems for sale, but I'm hoping that my negative feedback looms large in the minds of any potential buyers.

I contacted American Express last Friday, they "suspended" the charge on my account (meaning simply that I don't have to pay for it yet) pending an investigation. AmEx was very helpful, though I do worry that I'll still be stuck with the charge in the end.

I have now contacted the following organizations:

eBay - received automated reply, no updates since
PayPal - PayPal considers the issue resolved since I received an item and will do nothing
American Express - charge suspended pending investigation.
IFCC - complaint filed with the IFCC. No response yet.
USPS - complaint filed with the USPS. No response yet.
Davis, CA, police - referred me to contact local authorities. Very rude.
---
Email #1 to seller 5/24/04 17:50
I received this item today, however we have a problem. The specifications of the system are not as listed.
Listed as a 1.5 GHz, 128 MB VRAM, 5400 RPM drive, 4x DVD Superdrive
It is instead (as the box indicates) a 1.25 GHz, 64 MB VRAM, 4800 RPM drive, 2x Superdrive. This is in fact the previous generation system and not the new one as advertised. It also was not sealed and shows signs of use (the auction listing said the unit would be sealed).
This item is not acceptable, was it a mistake in the listing or have you sent me the wrong item? If it is the former I can return the item to you for a refund, if you sent the wrong item I can return this one and you can send the appropriate one.
Hopefully we can resolve this quickly and amicably.
Please get in touch with me as soon as possible, by email or by phone.
Thanks,
Jeremy Thornhill
---
Email #2 to seller 5/24/04 21:52
I see that you have relisted the exact same auction on eBay again, and I will leave a negative feedback and pursue all outside avenues to correct the situation if you do not contact me within the next few hours. I seriously hope we can come to terms, but I don't want another buyer to fall prey to a similar misrepresentation. Barring any further response for you, the only conclusion I can reasonably draw is that your action was intentional and that you plan to repeat it again with another buyer. I can't in good faith allow that to happen.
---
Please contact me via phone as soon as you can so that we can possibly resolve this issue without escalating things further.
---
Email #3 to seller 5/25/04 00:04
I wanted to apologize for the harsh tone of my previous mail, and I understand that mistakes can be made. However, you must also understand that I'm very worried about having received the improper item, especially with so much expense involved.
Please call me as soon as possible so that we can figure this situation out without involving credit card companies, paypal, ebay, etc. I really don't want this to be more complicated than it has to be.
Thanks,
Jeremy Thornhill
---
Email #4 from seller 5/25/04 00:40
Jeremy,
I am SOOOOOOOOOOOOO sorry about this. I'll e-mail you tomorrow. I need to talk to my father-in-law who is the one who bought us these. We actually were given a matching pair of powerbooks. "His and Hers" My husband and I never opened the package they came in. As you can see on the box it arrived in, we tore off the UPS address label that was used to ship it to us. I will call him tomorrow and discuss this with him.
If in fact this is all true, I will gladly refund the money to you.
I am so sorry Jeremy. I didnt mean to worry and stress you out. I know you were concerned about being burned by someone. I just hope you can be patient while I try contacting him.
As soon as I know something, I'll either email you or call you.
---
Subsequent email tag summary
Early morning of 05/25, I received an email from another eBayer who had also used 'Buy it Now' on an identical auction to mine. They wanted to know how my transaction went, so I sent them a link to this site.
After I received the "soooooo sorry" email from the seller, I sent the seller a description of the item's condition and links to the photographs of the item around 1:00 am on 05/25. The seller replied that she would "handle it" and asked for my mailing address (shouldn't she already have this?) I sent it to her. After another request for an update from me, on the afternoon of the 25th the seller told me she had sent a personal check for the full amount of the item plus return shipping costs. She said that she had another powerbook that might be correct, but she didn't know, and that she would have to drive to her brother's house on Memorial Day weekend to verify. She refuses to communicate via phone, though I have requested that she do so in almost every email.
It was at this point that I contacted eBay's fraud department, specifically mentioning the multiple item listings. I've yet to hear back from a real person there.
---
Copyright 2004, Jeremy Thornhill
HTML lovingly hand-crafted with vim